Whoever's humming to the tune of "wake me up when September ends" has got just a few hours left. Good bye sad song, your season is over. Off to cheerier, giddier, more optimistic Christmas carols. I've never felt more excited to hear Jingle Bells again.
I'm just glad I didn't have to sleep through September. Inspite of the quarter life episodes and the strikes of depression here and there, September turned out to be an exciting month after all. More so, September was a month of investments.
Lemme see. There's the big career move. There's meeting new people and being reunited with an old colleague (specifically, him who has been a mentor of sorts). There's the unnecessary spending, no thanks to those newfound online shopping sites, and St. Francis trips with Aster (the housemate). And then there was the looong brownout, a first in a long while. And the friggin storm that left all of us all shattered, hassle-d, and feasted on by mosquitoes.
Oh, and of course there are things that are beyond blogworthy. So let me just keep them where they should be. In here, right here. *points to heart*. Ohh muuuush, please swallow me alive. Gah. :)
As for my state of (emotional) calamity, I say, it's getting more stable now. Fartalot is right. I just happened to be somewhere "in-between" at the time of that controversial post (one which earned not only overwhelming comments but text messages as well). So hey, I'm a-okay now. There's a lot of moving on and letting go happening, but I realized that I need them to grow. c",)
Obviously, I'm not really in the mood to be all ranty and bloggy today. I just didn't want to let September pass by without a post, nonsensical as it may be. That's just about it. :P
SO HEY. MEET MY BOYFRIEND.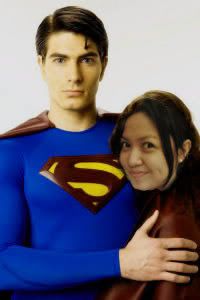 Sweet dreams are made of Photoshop. Hehe.
A word to the desperate: if you can't find the blue fairy, try Adobe. :P
Haha. I. Am. So. Busted. PFFT.