Remember this layout? I'm recycling. Because aside from the obvious reason that I don't have time anymore to revamp this site for a Christmas layout, it's always a good thing to look back and relive past Christmasses (without the bitterness and all; of course you know what I mean by that). So here.
One Christmas wish was granted for me. Hope you got yours too. :)
I don't know which site to focus on anymore, I end up updating all of them. One. Two. Three. Take your pick. That's why there's a lot of cross-posting going on.
Lately I've been thinking about focusing on my domain nalang, for SEM-related reasons. However, I have this unexplainable attachment to Tabulas, it breaks my heart to let it go (ohh, and what with the paid account that Roy so generously given me–nah, who would want to let that go?) So.. I'm keeping it nalang. (There goes my undecisive self.)
Zoom in on the "real world", there are gazillions of things happening at once, and I've somehow managed to unconsciously drown myself into the rush that Christmas is.
This week, I did what everyone normally would at a time such as this: I obligingly went to work in the mornings, shopped for gifts after work; shared the excitement of them last minute Christmas shoppers; spent the night cutting red and green wrappers and ribbons; sighed a little as I watched those twinkling lights we happened to pass by along the way; and, when the lights were all out, whispered words of thanks to Him who puts meaning to the word CHRISTmas with His very name.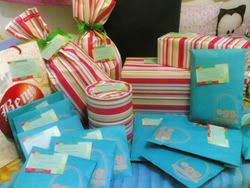 Coz no gift would be more perfect, more perfect than you
You're the only wish I pray for, I pray would come true
I can't wait to wake up to a new December dawn
With you by my side, from this Christmas on..
Gone are the days when the excitement of Christmas came with the gifts that were for me. It's my turn to spread the love. The gifts are all wrapped. I can't wait to give them away.
Merry Christmas, everyone. :)